In the wake of the NCAA investigation into a variety of its sports programs, Boise State has elected to terminate the contract of athletic director Gene Bleymaier.
Bleymaier was largely credited with helping bring Boise State into the big time of college athletics, but apparently university president Bob Kustra made the decision that Bleymaier was not the leadership that they needed to take the program forward after the round of sanctions.
From the NFP report:
"I did not come to this decision lightly," Kustra said in a statement. "After a careful management review and discussions about the future of the program, I determined that new leadership will be needed as we commit ourselves to the highest level of attention and enforcement of NCAA standards, and also continue to move Boise State athletics to the next level of success."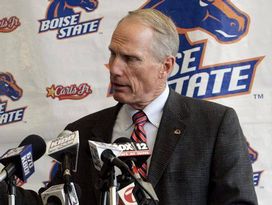 Boise State AD Gene Bleymaier was let go after 30 years on the job.
The 57-year-old Bleymaier met with Kustra last Thursday and fought to keep his job, but it was to no avail.
"I did let him know that I wanted to stay, and I think he knows that I'm very disappointed," Bleymaier said. "We're very proud of what we've been able to do here in my time."
"I was told by President Kustra that his decision is predicated on the confidence level he believes he needs to have as president in the university's compliance operations during an NCAA probationary period."
The football violations, which are being reviewed by the NCAA, occurred between 2005 and 2008. In its response to the sport's governing body, the school noted a series of "secondary" violations by the football staff, including coaches arranging for incoming players to receive cheap transportation, meals and housing during voluntary summer workouts. Those benefits were valued at less than $5,000.
The program already self-imposed penalties, including a three-year probation period, loss of scholarships over the next two years, forfeiting practice time and changes in its compliance office. The NCAA has yet to make a decision on the matter, so it's unknown up to this point if further sanctions are on the horizon. Violations within the athletic program occurred in other sports as well, including men's and women's tennis, and track and field.